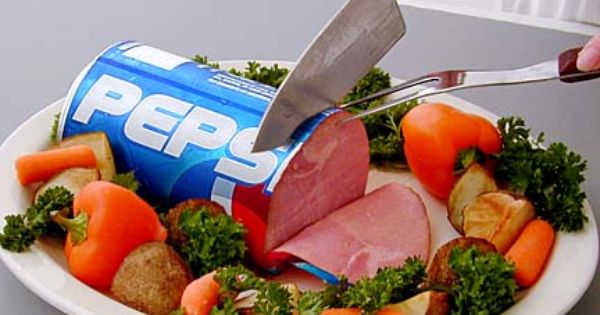 Baked Pepsi Ham
1 5-pound pre-cooked ham
1 12-ounce can Pepsi
Place ham in a roasting pan. Pour Pepsi over ham and seal pan with foil.
Bake in 325 oven, basting occasionally, 60 minutes. Remove foil and turn ham. Baste again and bake another 30 minutes.
Note: For a larger ham use 2 cans of Pepsi and bake 15 minutes per pound.
Crock Pot Pepsi Ham
1 3- to 5-pound canned ham cut in half
1 can crushed pineapple
3/4 cup brown sugar
1 12-ounce can Pepsi or Coke
Place all ingredients in a crockpot set on low. Allow to cook for 4-6 hours.
Pepsi Ham Glaze
6 oz. Pepsi
2 tbsp. mustard
1 tsp. ground cloves
1/4 c. brown sugar
Mix together. Keep basting ham with glaze
Pepsi Pork Roast
3 – 5 lbs. pork roast
1/4 cup soy sauce (or to taste)
1/4 cup Worcestershire sauce
12 ounces Pepsi
salt and pepper
Rub roast with salt and pepper and place in crock pot, add liquid. Cook on high 2 ½ to 3 hours, or on low 4 hours until internal temperature is 170 F.  Remove done roast and add flour to remaining liquid a little at a time to make gravy.  Add a package of frozen baby carrots or potato cubes about half way through the cooking time.
Pepsi Chicken
2 Liter of Pepsi
10-14 Chicken Legs
2 (salad dressing sized) Bottles of BBQ Sauce
Directions:
Put all your chicken in dutch oven w/lid. Cover it with the BBQ sauce. Then add Pepsi so that the chicken is almost completely covered. Put the lid on and set the dutch oven on a hot bed of coals and cover lid with more coals. Cook 15 – 25 minutes depending on heat of fire.
Comments:
You may have to add more Pepsi to cover chicken in middle of cooking. The Pepsi is added to carmelize the chicken and keep it from burning.
Pepsi Barbecue Sauce
1 can Pepsi Cola
1 1/2 cups catsup
1 cup onion, diced
1/4 cup apple cider vinegar
1/4 cup Heinz 57 sauce
1 teaspoon chili powder
1 teaspoon salt
Hot pepper sauce to taste
Bring all ingredients to a boil, then simmer for 1 hour
PEPSI COLA CAKE
STEP ONE:
1/2 c. shortening
1 stick butter
1/4 c. cocoa or 1 env. cocoa bake
1 c. Pepsi Cola, at room temperature
1 1/2 c. miniature marshmallows
STEP TWO:
2 c. sugar
2 eggs
1 tsp. vanilla
1/2 c. Producers Creamery milk or buttermilk
2 c. sifted flour
1 tsp. soda
Preheat oven to 355 degrees. Grease and flour large oblong pan.
STEP ONE: Bring slowly to a full boil first 5 ingredients and add the marshmallows immediately and remove from heat. Mix thoroughly. Set aside.
STEP TWO: Cream together next 4 ingredients well. Sift dry ingredients and add to creamed mixture. Mix well; then add Step One and Two together; mix well. Pour into prepared pan and bake in preheated oven about 40 minutes or until a pick comes out clean.
PEPSI COLA FROSTING:
1/4 c. cocoa or 1 env. Cocoa Bake
6 tbsp. Pepsi Cola, room temperature
1 stick butter, soft
Melt in pan over medium heat first three ingredients and bring to a full boil, stirring constantly. Remove and add: 1 c. chopped nuts, pecans or walnuts 1 tsp. vanilla